Lime Mexican (Key) True Dwarf
Grower's Comments: FINALLY! A TRUE Mexican Lime that behaves itself while still offering full sized fruits!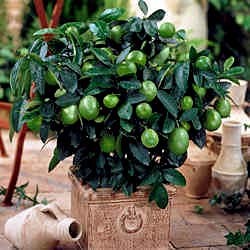 Varies throughout the year
Tops out about 5 1/2 feet
Bring in during cold weather in North Carolina
Full sun
FUN FACTS
Citrus originated from the temperate and the tropical climates throughout Asia
PLEASE CALL OR EMAIL FOR CURRENT AVAILABILITY
| Size | Price |
| --- | --- |
| 5 gal | $46.50 |
| 7 gal | $54.95 |
This is a nice addition to our Citrus product line, and comes to us from Four Winds Growers. When fully mature (in about six to seven years), these currently 3 year old trees should stay in the six to six and a half foot height, making them ideal for not only house plants but well behaved patio additions.

These are of fruit bearing age now; you can expect about two Citrus Lime crops each year, since it takes about six months for them to fully develop. Like all Citrus, these True Dwarf Mexican Limes will do best in well drained soils with at least eight hours of sunlight during the day.