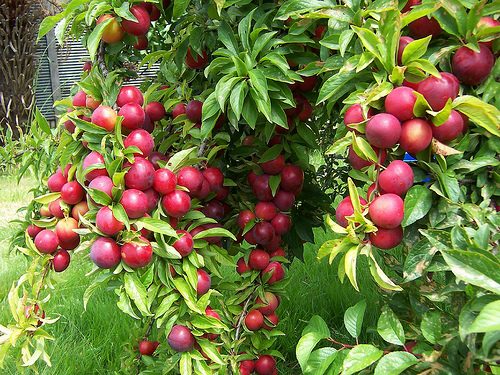 WELCOME TO RABBIT RIDGE BERRY FARM !
NORMAL BUSINESS HOURS:

Monday thru Friday: 8:00AM until 4:00PM.

Saturday: 8:00AM until 12:00PM.

Sunday: Closed.
Our Pick-Your-Own is now open for the 2023 season!
We are currently picking

Blackberries

and

Blueberries

.
Please call (910) 897-2639 to schedule an appointment to come pick.
We provide the containers, you just bring yourselves and an appetite!
We're glad you found us! We are a small Berry Farm and Nursery in Eastern NC that originally specialized in container grown Hosta and Daylilies. Since 2002, we gradually expanded our selections to include woody ornamentals, groundcovers, grasses, potted herbs, vines, and hanging baskets, all available as container grown plants. In 2010, we moved entirely into fruiting plants, including trees, vines, and shrubs.
And then one day in late fall of 2018, we decided to reinvent ourselves all over again! We are now a major retail supplier and specialist in small fruits. We grow many cultivars of: Grapes, Figs, Blueberries, Thornless Blackberries, Rasperries, Kiwi, Elderberries, Lemons, Limes, Pineapples, and more! Each of our fruits have been selected to not only grow but to thrive in our part of North Carolina. Additionally, we offer a large area of Pick Your Own Berries here at the Berry Farm, which also serves as a demonstration and training area for our Customers in their care and growth.
FOR FRUIT AND BERRY PLANTS: PLEASE CALL OR EMAIL, ESPECIALLY THIS TIME OF YEAR, TO BE SURE WE HAVE WHAT YOU ARE LOOKING FOR AND THAT SOMEONE WILL BE HERE TO HELP.
We are both pleased and proud to share our association with Oaklyn Springs Brewery in Fuquay Varina, NC. Rabbit Ridge Berry Farm will be supplying Oaklyn Springs Brewery with the finest in freshly harvested berries, including Blackberries, Tayberries, Loganberries, and Raspberries for use in their already tasty offerings.
You can check them out and see what events are upcoming
HERE
.
We are now offering Black Wonder 5000 Organic Soil Builder, a blend of composted manure, seaweed extract, vermiculite, and gypsum, as well as beneficial enzymes, bacteria, and root fungi. This Soil Builder can be mixed into lawns, garden beds, or containers to help your plants flourish! Find out more about it
HERE
.
During the months of November thru February, we are able to ship five gallon and smaller sizes of our berry plants to most states in the US. These include blackberries, raspberries, tayberries, and loganberries, as well as smaller sized elderberries, figs, blueberries, kiwi, and grapes. All are shipped bareroot via UPS Ground and should arrive at your door in three days or less. We are able to ship these items because they have not yet reached a size where we will pot them up into seven gallon or larger containers for sale here at Rabbit Ridge. Most of these BR plants are of bearing age.
We are not a wholesale plant nursery. Customers who provide us with a valid NC Resale Number or a current NC Agricultural Exemption Number will not be charged NC Sales Tax.
PLEASE NOTE: WHILE WE TRY TO MAINTAIN UP TO DATE PRICING ON OUR WEBSITE, PRICES AND SIZES ARE SUBJECT TO CHANGE. TO AVOID DISSAPOINTMENT OR ANY MISUNDERSTANDING, CALL FOR CURRENT AVAILABLITY, SIZES, AND PRICING.
THANK YOU FOR UNDERSTANDING.
NOTE: PLANTS (EVEN THOSE THAT HAVE BEEN PAID FOR) LEFT WITH US FOR OVER 90 DAYS ARE SUBJECT TO BEING RESOLD UNLESS PRIOR ARRANGEMENTS HAVE BEEN MADE.
NO ADJUSTMENTSMADE WITHOUT SALES RECIEPT. PURCHASER ACKNOWLEDGES THAT PLANT(S) IS/ARE ALIVE AND HEALTHY WHEN PURCHASED.
RABBIT RIDGE BERRY FARM CANNOT BE RESPONSIBLE FOR THE CARE AND MAINTENANCE OF ANY PLANT AFTER IT LEAVES OUR NURSERY.
PLEASE NOTE: WE ARE NOT ABLE TO PROVIDE ANY WARRANTY ON FIG TREES.
NO ADJUSTMENTS AFTER THIRTY (30) DAYS. THANK YOU FOR UNDERSTANDING.