Fruit Thornless Blackberry 'Apache' ®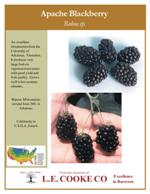 Summer; Upright
Varies, semi trailing
None noted
USDA Zone 6 to USDA Zone 9
Full sun
PLEASE CALL OR EMAIL FOR CURRENT AVAILABILITY
| Size | Price |
| --- | --- |
| 1 gal | $11.25 |
| 2 gal | $13.50 |
| 3 gal | $16.25 |
| 5 gal | $18.50 |
An excellent choice for the home garden, the Apache Blackberry Thorn-less (New Patent #11865) is a very sweet blackberry. This newly released thorn less, Apache Blackberry produces larger fruit and higher yields than any of the other previously released blackberry cultivars.

Apache Thorn-less Blackberry will ripen 10 days or more later than Triple Crown. The Apache Thorn-less Blackberry fruit are blocky and conical with a very attractive glossy black color. Early reports show Apache Thorn-less Blackberry's fruit to be larger than Triple Crown with eating and holding characteristics to be about the same.

Among the latest blooming and heaviest bearing of its kind.