Fruit Blueberry 'Climax' (E, Rabbiteye Type)
Grower's Comments: Plant with another variety for better fruit size and quantity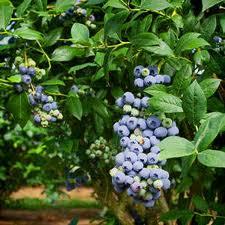 Spring; E
Varies; trim back in the winter
450 - 500
USDA Zone 6 to USDA Zone 9
Full sun
FUN FACTS
Maine is the blueberry production capital of North America and produces almost 100 percent of all berries harvested in the country.
PLEASE CALL OR EMAIL FOR CURRENT AVAILABILITY
| Size | Price |
| --- | --- |
| 5 gal | $35.00 |
| 3 gal | $22.50 |
'Climax' is an early season shrub with berries of medium size and medium dark blue in color. This plant grows upright and the fruit begins to ripen 3 to 5 days before the cultivar 'Woodard' and is excellent for mechanical harvesting. Vaccinium ashei is a Southeastern U.S. species, well adapted to hot, humid summers with mild winters. They tolerate conditions that other blueberries will not. They generally grow 6 to 8 feet tall, and the blueberries ripen in late spring or early summer, but the size really varies and can be controlled by the home gardener by pruning in the fall. Suitable for hedging or shrub borders, with attractive tiny pink or white flowers and often nice reddish fall colors. Prefers, rich, moist acidic soils. Plant several varieties for good pollination. Prune out old branches and weak shoots for good fruit production.