Fruit Blueberry 'O'Neal' (E, Southern Highbush Type)
Grower's Comments: Best to plant two or more cultivars to increase fruit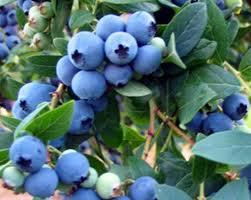 Spring; E
Varies; trim back in winter
600
USDA Zone 6 to USDA Zone 9
Full sun
FUN FACTS
Native Americans once called them "star berries," because the five points of blueberry blossoms make a star shape.
PLEASE CALL OR EMAIL FOR CURRENT AVAILABILITY
| Size | Price |
| --- | --- |
| 3 gal | $22.50 |
| 5 gal | $35.00 |
The O'neal Blueberry is very nice and strong growing southern Highbush variety. Its beautiful white flowers make it a profuse bloomer each spring. The bloom period is extended compared to other blueberry cultivars. O'neal is one of the earliest blueberries to ripen. The tasty berries are considered to have one of the best flavors of all southern Highbush blueberries. O'neal was first released by NC State University in the 1980's as a superb Highbush variety well suited for our North Carolina climate.