Fruit Blueberry 'Powder Blue' (L, Rabbiteye Type)
Grower's Comments: Cross pollinate with another variety for better fruit set.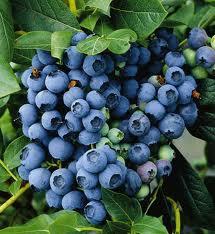 Spring; M/L
Varies; trim back in winter
550 - 650
USDA Zone 6 to USDA Zone 9
Full sun
FUN FACTS
The traditional blue paint used in the homes of Shakers was made from blueberry skins, sage blossoms, indigo, and milk.
PLEASE CALL OR EMAIL FOR CURRENT AVAILABILITY
| Size | Price |
| --- | --- |
| 3 gal | $22.50 |
| 5 gal | $35.00 |
Medium to large sized fruits, darker blue in color than many with a very sweet taste, ripening in late season. Powder Blue is a beautiful upright and highly productive plant with superior fall foliage color. Since it is a late bloomer, Powder Blue has reliable crops of large berries because of its spring frost resistance.