Fruit Blueberry 'Tifblue' (M, Rabbiteye Type)
Grower's Comments: Plant with another culitvar to improve fruit size and quantity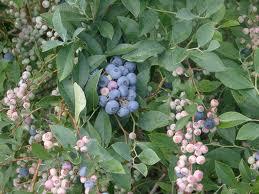 Spring; M/L
Varies; trim back in winter.
550 - 750
USDA Zone 6 to USDA Zone 9
Full sun
FUN FACTS
During the Civil War of the 1860s, blueberries were collected, packaged, and sent to Union troops for use as a food staple.
PLEASE CALL OR EMAIL FOR CURRENT AVAILABILITY
| Size | Price |
| --- | --- |
| 3 gal | $22.50 |
| 5 gal | $35.00 |
Tifblue is the most universally outstanding Rabbit eye blueberry grown to date. The fruits are large, light blue and ripen later in the season. The bush is vigorous and very productive. Tifblue is more cold hardy than most Rabbit eye blueberries varieties. It should be the predominant variety in any planting and is an excellent pollinator. 'Tifblue' is a mid-season plant that has a vigorous and upright growth. This cultivar has been the best commercial variety from the standpoint of appearance, productivity, and shipping qualities but the fruit ripens most years too late to receive high fresh market prices. Berries of this variety, like the cultivar, 'Woodard' are very tart until fully ripe. Vaccinium ashei is a Southeastern U.S. species, well adapted to hot, humid summers with mild winters. They tolerate conditions that other blueberries will not. They generally grow to a manageable size, and the blueberries ripen in mid season. Suitable for hedging or shrub borders, with attractive tiny pink or white flowers, and often nice fall colors. Prefer, rich, moist acidic soils. Plant several varieties for good pollination. Prune out old branches and weak shoots for good fruit production.