Fruit Fig 'Alma' S
Grower's Comments: A very good Fig for cooking, fresh eating, or canning. Quite sweet.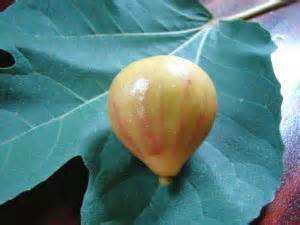 Spring; Sealed Eye
Varies with pruning and trimming
Less than 200
USDA Zone 7 to USDA Zone 10
Part / Full sun
FUN FACTS
The Alma Fig was introduced by Texas A&M University
PLEASE CALL OR EMAIL FOR CURRENT AVAILABILITY
| Size | Price |
| --- | --- |
| 10 gal | $52.50 |
| 7 gal | $44.50 |
| 5 gal | $35.50 |
| 3 gal | $25.95 |
Light colored fruit with very small seeds. The fruits of the Alma fig are mostly medium to occasionally large in size and somewhat pear looking in shape. When young the fruits are green but they ripen to a very pretty bronze with hits of yellow colors. The ripe flesh is amber to pink in color with a very sweet flavor. This fig is a good choice for the South and Southeastern US.