Fruit Fig 'Black Mission' C
Grower's Comments: Probably the most popular fig grown in America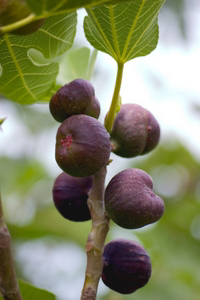 Spring; Closed Eye
10 to 15 feet by about as wide; easy to maintain
Less than 100
USDA Zone 7 to USDA Zone 10
Full sun
FUN FACTS
Figs are very healthy; it is said that figs help lower blood pressure, relieve arthritis, provide potassium and lots of fiber, help protect against some cancers, help the immune system and diabetics. If only half of that is true, where can you find any other fruit or vegetable that does all that?
PLEASE CALL OR EMAIL FOR CURRENT AVAILABILITY
| Size | Price |
| --- | --- |
| 10 gal | $52.50 |
| 7 gal | $44.50 |
| 5 gal | $35.50 |
| 3 gal | $25.95 |
The Black Mission Fig Tree is one of the most popular figs originating from Spain and brought to North America by Spanish missionaries. It is a medium to large, pear shaped, purplish-black fig. The flesh is strawberry colored with excellent flavor. Many experts consider the Black Mission Fig Tree to be the best all-around variety for the south, north, coast and interior United States. Black Mission Figs ripen Summer to Fall. The Black mission fig tree is one of the most popular fig trees because the figs are very large and are as sweet as honey; the other reason for its popularity is that it produces figs on new growth and not on second year growth like most figs. It is a bushy fig growing only 10 to 15 feet tall and same width so it is easy to harvest the figs.