Fruit Fig 'Desert King' C
Grower's Comments: A good choice for those who worry about cold winter temperatures in our area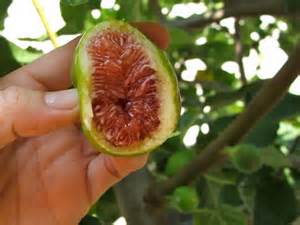 Spring; Closed Eye
10 - 15 feet
100 or less
USDA Zone 5 to USDA Zone 9
Full sun
FUN FACTS
Figs are an ancient fruit even mentioned in the Bible.
PLEASE CALL OR EMAIL FOR CURRENT AVAILABILITY
Currently unavailable - We do not know when or if this item will be restocked.
The King Fig's origin and is not known with respect to the ancient world. We do know that a 'Desert' King Fig came from a fig tree discovered in the mid 1900's, near Madera, California.

The King is a fast growing tree with more erect laterals than say, the Brown Turkey fig.

Cold resistance is very good considering it is a fig and has the name Desert in it's title history, and the terminals and fruit buds stand up well to our winters here in Zones 6 - 8.

Like almost all figs, too much water at fruit set can cause some cracking in the fruits. Expect fruits to start developing in early summer and to be large and ripe enough for harvest in late summer.