Fruit American Table Grape Red SF 'Canadice Seedless'
Grower's Comments: Self fruitful; sun to part sun; medium grower; bunch grape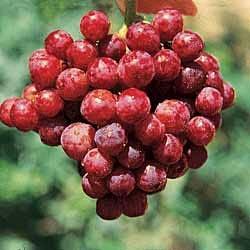 Varies
Between 150 - 200
USDA Zone 4 to USDA Zone 8
Sun to part sun
FUN FACTS
The main two types of grapes are European and American. They come in seedless and seeded varieties.
PLEASE CALL OR EMAIL FOR CURRENT AVAILABILITY
| Size | Price |
| --- | --- |
| 5 gal | $35.00 |
| 3 gal | $22.50 |
Canadice Seedless is a new addition to Rabbit Ridge Nursery, and promises to become an all time favorite. As we delve more and more in the small fruits here at the Nursery, we're discovering many old and new varieties that are well suited to the home gardener in our climate zone. Canadice is more winter hardy than most of the other seedless grapes we've explored. It produces medium clusters with small red berries that are similar to Delaware in flavor and appearance. A Hybrid cross of Bath x Himrod released by the New York State Agricultural Experiment Station in Geneva New York 1977. It was named after Canadice Lake. Excellent table grape for wine, juice or jelly. Harvest is from mid-August into October. Canadice Seedless is self fruitful, and like all Rabbit Ridge Nursery Gapes, are at least three year old plants. Cane or spur pruning.