Fruit American Table Grape Purple SF 'Concord'
Grower's Comments: The best loved Grape in America!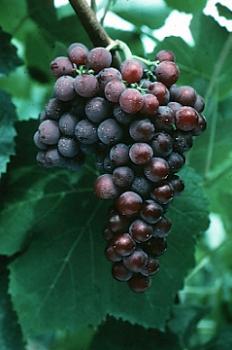 Mid spring, white
15 to 25 feet, should be trellised
Between 150 and 200
USDA Zone 5a to USDA Zone 8b
Full sun
FUN FACTS
There are more than 60 species and 8000 varieties of grapes all over the world. Some common varieties of grapes are blue, black, green, red, golden, blue-black, white and purple.
PLEASE CALL OR EMAIL FOR CURRENT AVAILABILITY
| Size | Price |
| --- | --- |
| 3 gal | $22.50 |
| 5 gal | $35.00 |
An attractive addition to your garden and one that you can eat! Attracts bees, butterflies, birds and the neighborhood children when you are not watching. Our plants are a minimum of two years old before they are ready to be sold and many are closer to three years old. A dependable producer, but like all grape vines, the older it gets the more it produces. Once established, is very hardy and drought tolerant. Needs pruning in late winter or very early spring when it is dormant. Cane pruning recommended.