Fruit Muscadine Grape Bronze SF 'Doreen'
Grower's Comments: Actually is more disease resistant than Carlos, so this is an up and coming wine grape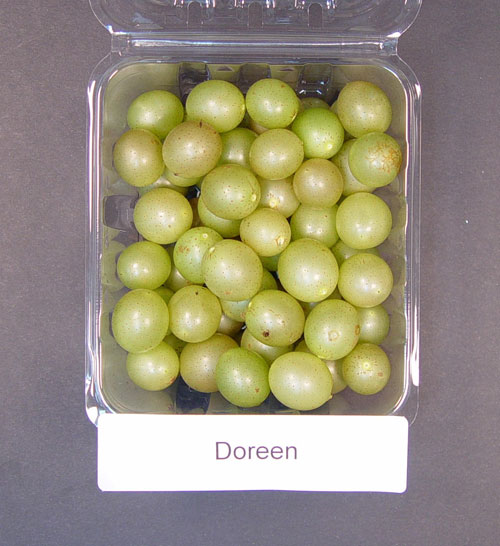 Spring, N/A
Varies
Less than 150
USDA Zone 7 to USDA Zone 9
Full Sun
FUN FACTS
'Doreen' was released by W. Nesbitt, D. Carroll of North Carolina State Univ. and J. Overcash, C. Hedgwood, and B. Stojanovic of Mississippi State University in 1982.
PLEASE CALL OR EMAIL FOR CURRENT AVAILABILITY
| Size | Price |
| --- | --- |
| 5 gal | $35.00 |
| 3 gal | $22.50 |
Doreen is a bronze, Self-Fertile (SF) Muscadine grape that is medium in size, ripening later than some other Muscadines, with a very good flavor. Plants are disease resistant and the growth habits are very vigorous. Sugar content is in the 17 - 18% range, and we recommend using Doreen for fresh eating, wine making, juice and jams and jellies.