Fruit Muscadine Grape Bronze Female 'Higgins'
Grower's Comments: A Bronze Female Muscadine Grape; plant with a Male Muscadine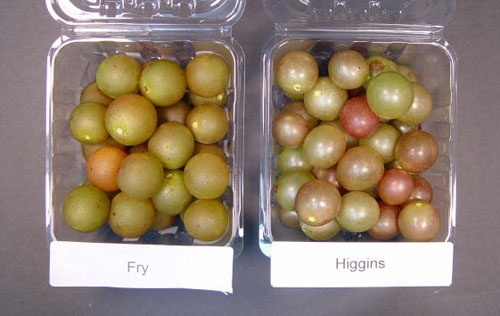 N./A
Varies with training
Less than 150
USDA Zone 7 to USDA Zone 9
Full Sun
FUN FACTS
'Higgens' was introduced in 1955 and quickly became a favorite for many. It is known for its large berry size and great berry taste.
PLEASE CALL OR EMAIL FOR CURRENT AVAILABILITY
| Size | Price |
| --- | --- |
| 5 gal | $35.00 |
| 3 gal | $22.50 |
'Higgins' is a large-fruited, productive bronze grape. It has very good flavor, requires a pollinator, and begins ripening in late August or early September.
Higgins is a little smaller than Fry, but just as tasty, and is excellent for eating fresh, for jams and for jellies!