Fruit Muscadine Grape Black Female 'Jumbo'
Grower's Comments: Grapes can be planted on fences, trellises, and arbors. They will grow satisfactorily in a wide rage of soil types provided the moisture supply is adequate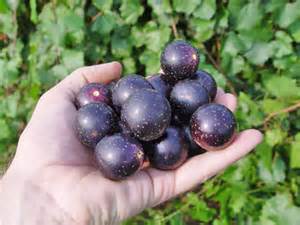 Varies due to training
Less than 150
USDA Zone 7 to USDA Zone 9
Full sun
FUN FACTS
Christian's believe Christ's First Miracle was turning plain water into wine. But I bet it wasn't a Jumbo!
PLEASE CALL OR EMAIL FOR CURRENT AVAILABILITY
| Size | Price |
| --- | --- |
| 5 gal | $35.00 |
| 3 gal | $22.50 |
The (Female) Jumbo Muscadine is the largest of all muscadine grape fruits and fits right in the palm of your hand. If you want a lot of bang for your buck as far as a large Muscadine grape goes, then this is the grape for you. A very long lived and easy to maintain fruit for the Home Gardener. Excellent taste and great for jams, jellies, and even wine making.