Fruit Muscadine Grape Black SF 'Nesbitt'
Grower's Comments: A black, Self fertile Muscadine Grape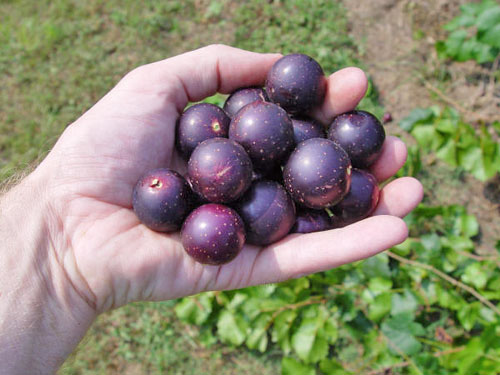 Varies
Less than 150
USDA Zone 7 to USDA Zone 9
Full sun
FUN FACTS
The production of grapes is more than 72 million tons all over the world. There are approximately 25 million acres of grapes throughout the world.
PLEASE CALL OR EMAIL FOR CURRENT AVAILABILITY
| Size | Price |
| --- | --- |
| 5 gal | $35.00 |
| 3 gal | $22.50 |
'Nesbitt' was released in 1985 by R. Goldy and W. Nesbitt of North Carolina State Univ. 'Nesbitt' was selected from the cross 'Fry' x 'Cowart' for its large berry size, resistance to ripe rot, and extended harvest period.

The black fruit are very large in size, cluster, high yields, ripen mid to late season, with a dry stem scar. Plants are very vigorous, disease resistant, and cold hardy. Sugar Content 16.5%-17.5%. Uses: Fresh Market, Pick Your Own, and Home.