Fruit Muscadine Grape Black SF 'Noble'
Grower's Comments: A black, self fertile Muscadine Grape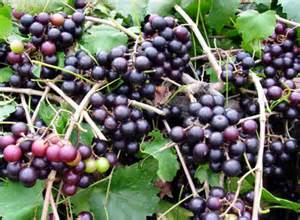 Varies
Between 150 - 200
USDA Zone 7 to USDA Zone 9
Full sun
FUN FACTS
American grapes are available in September and October, while European grapes are available round the year.
PLEASE CALL OR EMAIL FOR CURRENT AVAILABILITY
| Size | Price |
| --- | --- |
| 5 gal | $35.00 |
| 3 gal | $22.50 |
Noble is a black Muscadine grape that is classified as small in fruit size but with very large clusters and very high yields. Noble ripens in mid season and has a wet stem scar. Plants are moderately vigorous with very good disease resistance, however it can be susceptible to powdery mildew in hot and humid areas of the South. Noble's primary claim to fame is how easily juiced it is, making it especially attractive to the wine and juice making followers. Sugar content in the 15 to 16% range. Great for wine, home, juice, jelly.