Fruit Bunch Grape Red SF 'Reliance'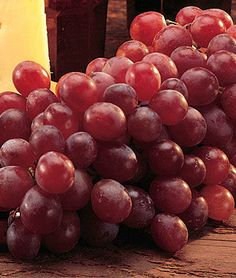 spring
Varies
Less than 150
USDA Zone 6 to USDA Zone 9
Full Sun
FUN FACTS
The 'Reliance' is a Vitis labrusca hybrid.
PLEASE CALL OR EMAIL FOR CURRENT AVAILABILITY
| Size | Price |
| --- | --- |
| 3 gal | $22.50 |
| 5 gal | $35.00 |
Cold-hardy and vigorous, Vitis 'Reliance' is a seedless grape variety that produces medium-sized clusters of glossy red grapes early in the season. Firm and sweet, the grapes are juicy, nicely flavored, and perfect for eating right off the vine. 'Reliance' ripens approximately thirty days earlier than 'Concord'. A terrific grape for fresh eating right off the vine, it is especially tasty when allowed to cool in your refrigerator.