Fruit Muscadine Grape Bronze Female 'Summit'
Grower's Comments: A Female Muscadine grape; use a Male Muscadine to pollinate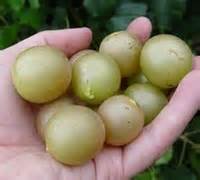 Varies
Less than 175
USDA Zone 7 to USDA Zone 9
Full sun
FUN FACTS
There are more than 60 species and 8000 varieties of grapes all over the world. Some common varieties of grapes are blue, black, green, red, golden, blue-black, white and purple.
PLEASE CALL OR EMAIL FOR CURRENT AVAILABILITY
| Size | Price |
| --- | --- |
| 5 gal | $35.00 |
| 3 gal | $22.50 |
Summit is a reddish bronze, female Muscadine grape. The fruit are medium to large in size with an excellent flavor. Dry stem scar, high yields and ripening in early to mid season with very high fruit yields. Summit is a very vigorous and cold hardy grape with excellent disease resistance. We think it makes an excellent stand in for Scuppernong in most applications. Sugar content is 17 to 18%. Excellent grape for fresh market, pick you own, home use, juices and jellies.