Fruit Muscadine Grape Bronze SF 'Tara'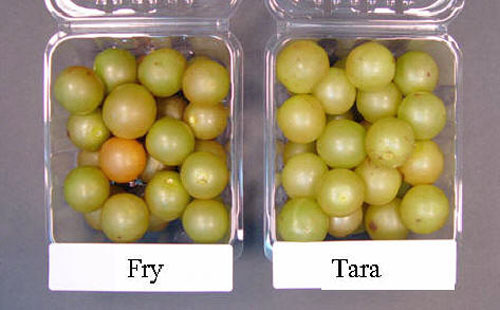 Spring
Varies
Less than 150
USDA Zone 7 to USDA Zone 10
Full Sun
FUN FACTS
The 'Tara' Muscadine grape has a high sugar content and makes a wonderful sweet wine as well as a mouth watering delight when eaten fresh from the vine.
PLEASE CALL OR EMAIL FOR CURRENT AVAILABILITY
| Size | Price |
| --- | --- |
| 3 gal | $22.50 |
| 5 gal | $35.00 |
The male Muscadine grape cultivar 'Tara' is bronze to lightly green in color when it is fully ripe; it is not only self fertile (SF) but is a terrific pollinator for any of your female Muscadine grapes. It has a sugar content of 16.5 to 17.5%, depending on ripeness and age of your vines. Like all Muscadine grapes, 'Tara' benefits by pruning each branch to two fruiting buds in late February.