Fruit Grape Muscadine Bronze SF 'Triumph'
Grower's Comments: A wonderful Bronze Self Fertile Muscadine Grape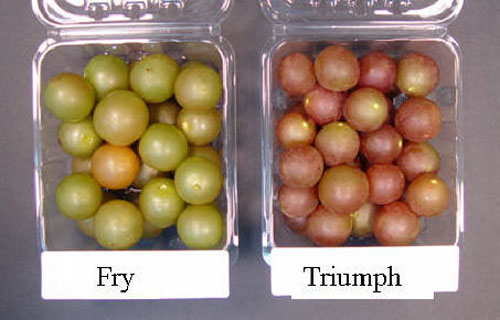 Varies
About 200
USDA Zone 7 to USDA Zone 9
Full sun
FUN FACTS
'Triumph' is very popular for the wine making and for fresh eating right off the vine!
PLEASE CALL OR EMAIL FOR CURRENT AVAILABILITY
| Size | Price |
| --- | --- |
| 5 gal | $35.00 |
| 3 gal | $22.50 |
'Triumph' is a Self Fertile, Bronze skinned Muscadine Grape of medium to large size. Excellent for eating fresh, for making into jams, jellies or wines. A little smaller than Fry but with a nice 'blush red color' (see insert), it none the less makes up for it's size with a powerful sweetness and taste. A very popular (and handsome!) grape at Rabbit Ridge Nursery.