Fruit Kiwi 'Issai'
Grower's Comments: Popular because it is one of the hardiest and because it bears both male and female flowers, allowing for easy fruit production.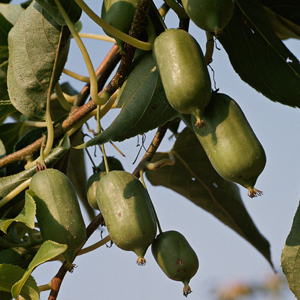 Spring, yellow
Varies as it is a trailing vine
300
USDA Zone 7 to USDA Zone 9
Full sun
FUN FACTS
Kiwis' ripen in late summer and are rich in vitamin C
PLEASE CALL OR EMAIL FOR CURRENT AVAILABILITY
| Size | Price |
| --- | --- |
| 3 gal | $28.50 |
| 1 gal | $14.50 |
| 2 gal | $21.50 |
Hardy Kiwis are a unique and delicious fruit, high in vitamins (especially C- 1.5 times the normal USDA recommended rate) and are a delicious treat to eat. 'Issai' is a hardy Kiwi, meaning it is cold tolerant in our Climate Zone, and it is self fertile. Being low in calories is an added bonus. To speed ripening of your Kiwi Fruits, you can place in a paper bag with a banana or an apple. As with a lot of young fruits, plan on providing both sun scald and cold weather protection until they are better established. They require regular watering in the heat of our summer and you can use sprinklers or drip irrigation which is less wasteful.