Fruit Coffee
Grower's Comments: Encourage your coffee plants to bloom by reducing water in the winter months and increasing water in the spring.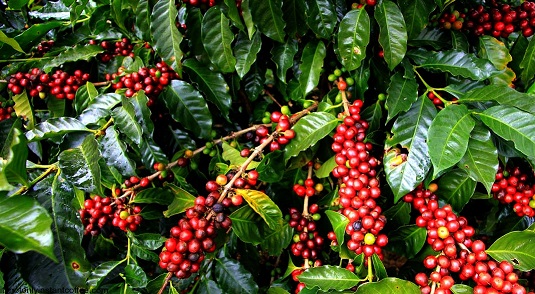 Spring
To 30' left unpruned outside; In container can be pruned to 5'-7'
USDA Zone 10; Tropical- cannot take freezing
Part sun
FUN FACTS
Arabica coffee is the most popular commercially grown species and accounts for 80% of the world's coffee production.
PLEASE CALL OR EMAIL FOR CURRENT AVAILABILITY
| Size | Price |
| --- | --- |
| 5 gal | $38.00 |
| 3 gal | $30.25 |
| 1 gal | $15.50 |
| 7 gal | $42.75 |
The coffee plant is an evergreen shrub native to Ethiopia and Sudan, now primarily grown in Latin America for commercial use. Leaves are dark and glossy and grow in pairs, and the small white flowers produce a strong aromatic scent. Coffee "cherries" begin green and gradually turn a vivid red. The fruit is edible and higher in antioxidants than pomegranates or blueberries.
Coffee plants prefer temperatures between 59º - 75º F and will need protection both from frost in the spring and fall and from direct sunlight in the summer, and are often kept indoors as houseplants.