Fruit Lemon: 'Improved Meyer' Dwarf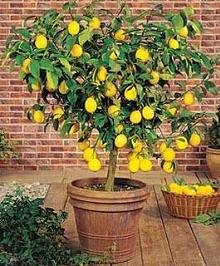 Spring
Dwarf- should remain under five to six feet when mature
USDA Zone 4 to USDA Zone 8
Full sun
FUN FACTS
Dwarf Fruit Trees produce full sized fruits on small trees: leaves, branches, trunk are all proportionally smaller, but the fruit is full sized.
PLEASE CALL OR EMAIL FOR CURRENT AVAILABILITY
| Size | Price |
| --- | --- |
| 7 gal | $54.95 |
| 5 gal | $46.50 |
Meyer lemon is one of the most widely-grown lemons in California and is planted extensively throughout the citrus-growing regions of the world. It is believed to be a Gallego seedling selection of Portuguese origin.
Our Meyer Dwarf Lemons are exactly the same lemon that we offer as on a full grown stock, only our Dwarf Meyer Lemons are grown on dwarfing Root Stock, which has a much more dwarfing habit by nature.