Fruit Pineapple
Grower's Comments: Pineapples are in the bromeliad family and you will get one juicy pineapple a year from your pineapple plant.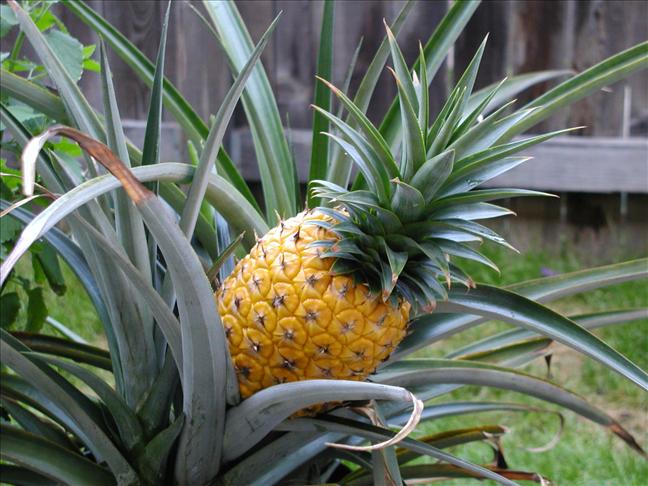 Spring
Varies
Less than 100
USDA Zone 8 to USDA Zone 10
Full sun
FUN FACTS
It takes about two years from the start of a new shoot f or your pineapple to flower and produce a pineapple. Ours are at fruiting age.
PLEASE CALL OR EMAIL FOR CURRENT AVAILABILITY
| Size | Price |
| --- | --- |
| 5 gal | $28.50 |
| 7 gal | $35.00 |
| 3 gal | $24.50 |
| 2 gal | $21.00 |
We recommend you grow your pineapple in a container so you can protect it in our zone. The plants have a beautiful purple bloom in spring, which is followed up by the baby pineapples growing.
Once the plant is mature enough to produce a pineapple, you will see a pinkish red color start to form on the 'leaves'. The shoot will take about 6 months to finish growing and ripening the pineapple fruit at which point it dies. . After a few years the your pineapple will become too crowed in it's container so it will be time to re-pot it.....and possible share some of the baby plants with your friends and family. A bush ripened pineapple is far more juicy and tasty than the ones you purchase in the grocery stores.