Fruit Raspberry 'Fall Gold'
Grower's Comments: An exceptionally handsome Raspberry that is very sweet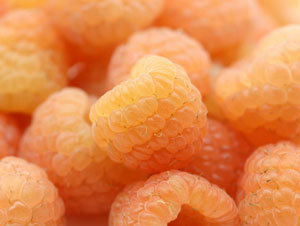 Late summer
Varies due to prunning
Very few
USDA Zone 3 to USDA Zone 8
Full sun
FUN FACTS
'Fall gold' raspberries are often served whole, raw, muddled and cooked. They are traditionally used in fruit salads, jams, ice creams, sorbets, and gelatos. they pair nicely with cocoa, exotic fruits, raisins, hazelnuts, marcona almonds, creamy cheeses, honey, peaches, coconut, cinnamon, blueberries, and lavender.
PLEASE CALL OR EMAIL FOR CURRENT AVAILABILITY
| Size | Price |
| --- | --- |
| 2 gal | $11.00 |
| 1 gal | $8.85 |
| 3 gal | 13.85 |
Just when you think that most Raspberries are in the various shades of red, along comes a good looker that is golden yellow in color. Very sweet, very large, and quite outstanding in both flavor and texture, Fall Gold even has smaller thorns than most of the Raspberries you have come across. Spreads very rapidly by underground tubers, it only takes a few to feed a whole family in no time.
Fall Gold Raspberry is an ever bearing Raspberry, and as such can be pruned in one of two ways:
TWO CROP option:For two small crops, one in July and one in September, remove the weakest, thinnest canes with dead flowering or fruiting bracts.
ONE CROP option:For one large late summer crop, remove all canes, and the crop will come entirely from the new summer's growth and produce berries in September through October.